A guy walks into a doctor's office with carrots stuck in both ears and a brussels sprout jammed up against one nostril.
"Doc, this is terrible!" he cries. "What's wrong with me?"
"First of all," the doctor replies, "you need to eat more sensibly."
Wah-wah-waaaahhhhhhhhhhh…
Seriously, if only that poor fella would put those veggies where they're supposed to go! After all, the new Canada's Food Guide encourages Canadians to eat a diet of roughly half fruits and vegetables.
Easier said than done, you say? If you've got an oven, check out this simple way to add more veggies to your diet by turning all kinds of them into delicious sides for burgers, salmon, steaks, meat pies, lasagna…hungry yet?
Go from grilling to roasting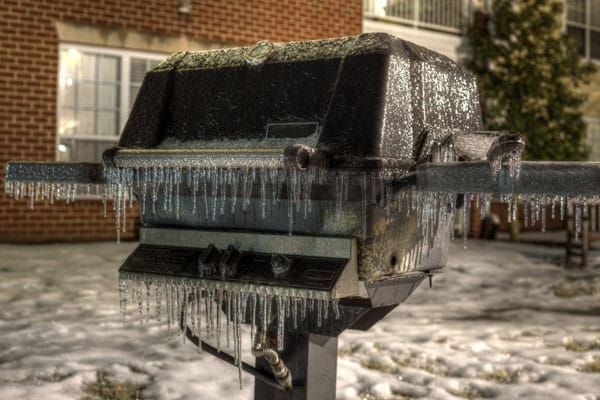 Many guys grill meats with barbecue sauce and veggies like they're going out of style during BBQ season. Then winter arrives, and the BBQ goes bye-bye. No desire to grill in a blizzard? No problem: if you're wondering how to grill without a BBQ, the answer lies in roasting. The fact is that throwing the best vegetables for men in a pan and putting them in the oven is even easier than BBQing. Here's the deal:
The best vegetables to roast
The carrots and brussels sprouts that the poor guy had lodged in his noggin are ideal for roasting. The same goes for sweet potatoes, beets, and cauliflower.
All you have to do is chop any or all of them into bite-sized chunks, put them in an oven-safe pan, toss them in a few teaspoons of cooking oil with a pinch of salt and pepper, and roast them in the oven at 190C/375F for about an hour.
Pro Tip: Line the pan with tin foil or parchment paper to avoid having to scrub later on.
Pro Tip, the Sequel: Pull the pan from the oven at the halfway point and mix the veggies around with a spoon or spatula. This will help them get evenly roasted.
Pro Tip, the Final Tip: Kick the deliciousness up a notch by firing a few whole peeled garlic cloves and onion chunks in there and sprinkling the whole shebang with cheese five minutes before the hour is up.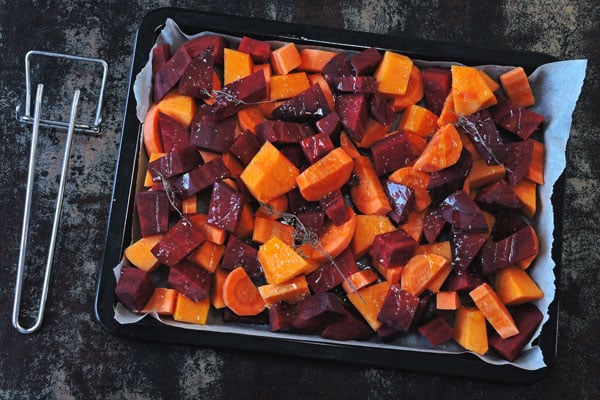 Easy and healthy oven-roasted vegetable recipes
If you've got a favourite roasted veggie, it's painless to make it even more delicious by adding the ingredients listed below. Fact is, the health benefits of roasting veggies go WAY beyond impressing your significant other with your culinary prowess (which can lead to "other" benefits). For instance:
Beets: A couple tablespoons of dry or fresh chopped dill can put these babies over the top.
Health benefits of beets for men: Beets help your body build new red blood cells and may also lower the risk of heart disease. Bonus: Beets can (harmlessly) turn your poop red! This isn't a health benefit, but it's worth a good chuckle.
Carrots: Drizzle a couple teaspoons of maple syrup over the top to bring out the subtle sweetness. Heads up, Bugs Bunny!
Health benefits of carrots for men: As well as giving carrots their orange colour, beta-carotene is a nutrient that helps your eyes and skin stay strong and healthy, and may lower the risk of some chronic diseases.
Sweet potatoes: Natural sweetness + a sprinkle of cinnamon = delicious!
Health benefits of sweet potatoes for men: Sweet potatoes have 10 times more vitamin A than regular white potatoes and may help reduce the risk of eye disease, some cancers, and heart disease. Unlike regular potatoes, sweet potatoes can help control blood sugars for guys living with diabetes or at risk for diabetes.
Cauliflower: Cut the cauliflower into bite-size florets and use a box grater to shred your cheese. Sprinkle grated cheese all over, and add EXTRA cheese to make it EXTRA delicious!
Health benefits of cauliflower for men: This heart-friendly vegetable helps reduce blood pressure, improves mood, memory and recall, and reduces the risk of cancer.
Brussels sprouts: A handful of sliced almonds or chopped pecans add a nutty flavour and makes the dish look like something out of Master Chef!
Health benefits of brussels sprouts for men: Brussels sprouts are a men's health powerhouse! They're jammed with vitamin C, which helps to prevent illness, heal cuts, and keep your gums, bones, muscles, tissues, and blood vessels strong. It may also reduce the risk of some chronic diseases.
Gentlemen, start your ovens!
No wonder Canada's Health Guide is so big on the best vegetables for men's health! And with these easy roasting tips in your back pocket, you can wow dining companions AND your own taste buds. Roast, eat, repeat!
What's your veggie of choice at this time of year? Share your faves in the comments below.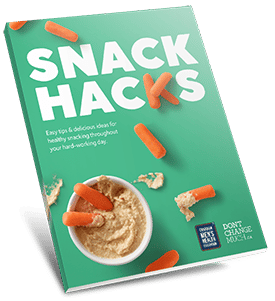 Free e-book
Are you trying to snack healthier? If so, we've got your back!
Grab this free e-book "Snack Hacks", for easy tips and delicious ideas for healthy snacking throughout your hard-working day.
Check the checkbox to receive more great tips each month.