The phrase "behind every great man there's a great woman" was coined in the 1940s, and times have changed for the better since then. Nowadays, men and women motivate and inspire each other to be great! Now that is something to celebrate this International Women's Day.
That said, it's hard to be great if you're not healthy. With many men struggling in that department, four past and current Don't Change Much team members share tips on how they help their guys live healthier lives.
Krystal: Meal kits for the win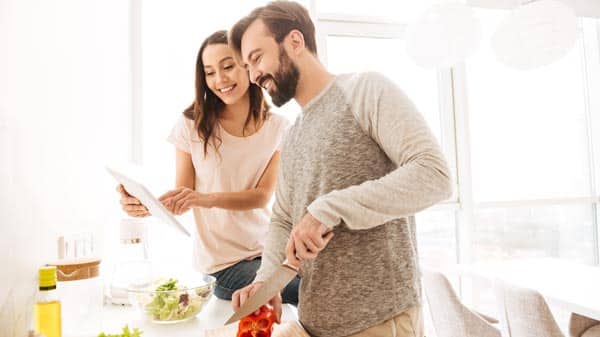 "My husband and I lead very busy lives, and we found ourselves stuck in the habit of eating out most nights during the week. It was taking its toll on our health and budget, but was the only way to fit everything in after work.
That changed a few months ago, when I subscribed to a meal kit delivery service. It's nice making dinner for one another—I prep one night, my husband the next, and so on. Not having to plan meals out and go grocery shopping gives us time to exercise before dinner, and relax together after we've enjoyed a healthy, home-cooked meal."
In fact, these inexpensive, easy-to-use subscription services are so good for your health and wallet that Don't Change Much has partnered with Canada's own Chefs Plate to offer guys a special deal.
Dianna: Focus on the positives
"Putting men down can kill their confidence. I'm all about encouragement, not belittling or making my husband feel bad. He already knows he needs to lose weight.
Right now, we are on a weight loss regimen. I started first and made a lifestyle change that has had great results, and my husband, after seeing my progress, has followed suit. He has lost 10 pounds so far and I am so proud of him.
When he is hungry and frustrated, as often happens during a diet or lifestyle change, I don't get upset with him. Instead, I say, 'It's okay babe, let's have some steamed broccoli (which he loves)' or 'let's boil some eggs for a snack.'"
When your motivation is flagging, turn to your better half and check out what she does to stay healthy. For instance, maybe she…
…always eats breakfast. When morning meals get lost in the shuffle, it can be tempting to fill the void with salty, fatty, or sugary junk food. But it doesn't have to be that way. These three healthy breakfast ideas taste great, take minutes to prepare, and are easy to bring to work in sealed plastic containers.
…takes the stairs. Swapping elevator rides for stair climbs is a simple, equipment-free way to strengthen the biggest muscles in your legs and burn more than 400 calories per hour.
…goes big with a water bottle. Drinking plenty of water at work is an easy, no-cost way to boost your energy levels, keep your weight in check, and save money by spending less on pop.
And let's face it: EVERYBODY wins when money stays in their purse, wallet, or man-purse!
Joanne: Laugh together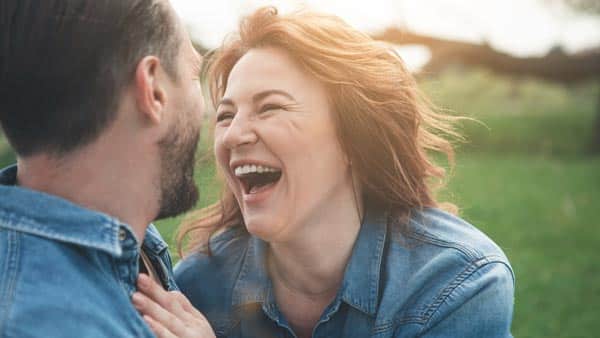 "With kids and jobs, sometimes my relationship with my husband takes a back seat to our to-do list. I find a great way to recharge and reconnect with my partner is to make time to laugh with each other and just be goofy.
It can be as simple as keeping a silly joke alive for a few weeks, which seems to get funnier over time. Or us watching a funny show together or choosing to laugh at a situation that didn't turn out the way we had hoped instead of getting upset about it. Less stress and more laughter is one way I'm helping my partner and myself live healthier."
Seshley: Nice guys finish first
"I'm most impressed by my man when he takes the high road. Being with a 'good guy' makes me happy, and I can tell it makes him happy too. Being a macho man isn't everything it's cracked up to be."
Being a good guy, and treating women as equals, will make BOTH partners happier and healthier.
Women must be doing something right
It's time for guys to learn a thing or three from the opposite sex. After all, men are 79 percent more likely than women to die from heart disease, 57 percent more likely to die from diabetes, and are at higher risk of everything from workplace and car accidents to depression and suicide. No wonder Canadian women are winning the health game and can expect to live more than four years longer than Canadian men.
The good news: when it comes to healthy living, the woman you love is in your corner!
How have women in your life inspired you? Share your thoughts in the comments below.
This article was originally published on March 8, 2020.