A guy's easy guide to making healthy Punjabi food choices
Happy: "Veer Ji, it's freezing outside, and it's the weekend. Let's have Patiala peg with fried chicken. Only that can save me from this cold weather."
Lucky: "Yaar seems like you forgot about my new year resolution. I'm going to make healthier food choices this year."
Happy: "Oh, come on, veer ji. We all know how long we stick to our New Year's resolutions. Don't tell me that you're planning to get six-pack abs like Ranveer Singh."
Lucky: "Oh, yaar, look at your beer belly. I've not made any palace-sized commitments, but just bringing small changes in my diet. Who needs six-pack abs when we're married. Punjabiyan di battery tan waise hi charge rehndi aa, just trying to be healthy."
Happy: "But veer ji, taste?"
Lucky: "Who says healthy food can't be tasty? Hear me out…"
Cheeni Rok ke, Gud Thok ke (Swap refined sugar for jaggery)
How many spoonfuls of sugar do you put in your tea or coffee? By looking at your dhol, I bet you it's not less than two. If you replace sugar with jaggery, it'll do wonders in the long run. Keep an eye on your sugar intake because sugars provide calories but few other nutrients. In contrast, jaggery contains vitamins and minerals including iron, potassium, magnesium, and B-vitamins. After all, our Malkit Paaji also sings, "Oh, gud naalon ishq mittha".
Eat whole grains
The sequel of Aate di chidi movie should be 'Whole grain aate di chidi'. Sounds fancy, eh? The sequel comes with a little push to the story. Similarly, whole grains come with a little push to your health. If you keep eating aalo de paranthe, you will also turn into an aaloo. Make at least half of your servings whole grains like brown basmati, barley, quinoa, oats or millet. Whole-grain flour is a natural and healthy alternative when making Punjabi dishes such as samosa, pakoda, chapati, roti, paratha, and naan.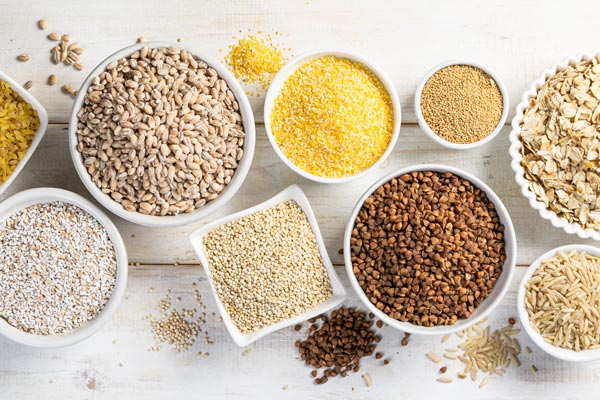 Eating plenty of whole grains can reduce the risk of type 2 diabetes, heart disease, obesity, and cancer, which means you can live longer for your family. Experiment with whole grains by using a delicious combination of wild, brown, and white basmati rice when making pulao or biryani. Use barley in place of rice when making khichdi and garnish veggies with quinoa and coriander every now and then.
Jiggle some fat off your plate, not in your belly
"O mainu coca-cola peen wali jaani nah, Jatti dudh naal badamm nitt chabdi". I hope jatti is drinking low-fat milk here. Otherwise, she would turn into a gol-gappa. Punjabi songs need to be specific, yaar. We can't deprive ourselves of eating delicacies like gajrella, moong dal ka halwa and faluda ice cream.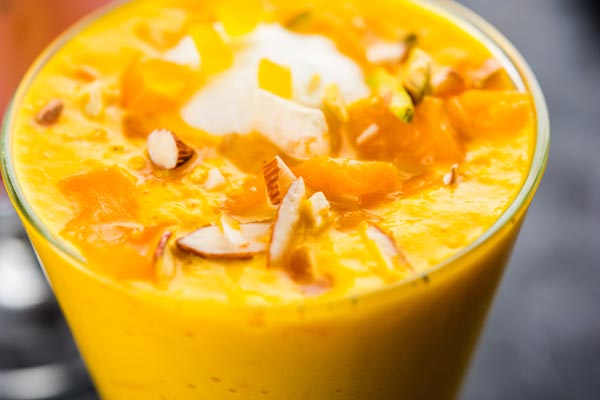 By using low-fat milk, you can keep those extra kilos off the scale. Next time you go for groceries at the Punjabi Market, keep the fat content of these dairy products top of mind. Low-fat alternatives are just as tasty and much healthier. Talk about a win-win situation! Other dairy products such as lassi, yogurt, paneer, and curd, are fermented foods that aid digestion and provide plenty of dietary calcium.
Get smart with indulgence
Our Punjabi moms feed us with desi ghee right from birth because "Kitte mera putt kamzor nah reh jaave." The show-stopper of every Punjabi kitchen — our very own desi ghee ji — is not only our mothers' favourite but also our body's favourite. It doesn't let go of it easily, like true love! Moderation is the key to eating desi ghee as consuming high quantities can lead to increased cholesterol levels.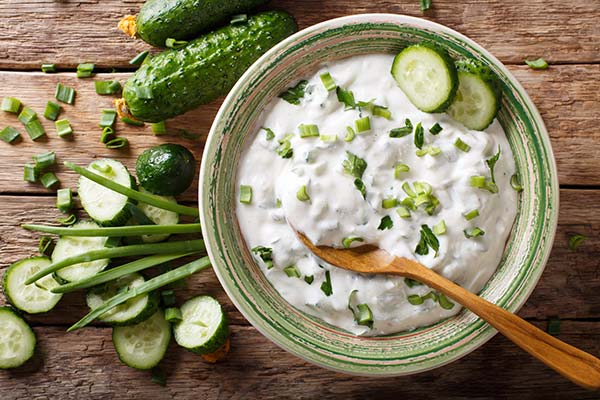 When going out to parties, restaurants, and gurudwara, add less desi ghee and butter to dishes, and favour healthier sides such as raita, roasted papadums, whole-wheat tandoori roti, green leaf salads, soups, and vegetables.
Happy: "Veer ji, tusi great ho! Let me also try making these small changes in my diet. I have to maintain my sexy figure after all (while rubbing his hand on his belly and bursting out laughing)".
Happy is ready. Are you? Share your healthy Punjabi food choices in the comments below.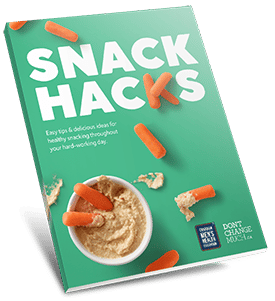 Free e-book
Are you trying to snack healthier? If so, we've got your back!
Grab this free e-book "Snack Hacks", for easy tips and delicious ideas for healthy snacking throughout your hard-working day.
Check the checkbox to receive more great tips each month.
---
This article is made possible by the support of generous sponsors.