When the going gets tough, Karl Subban gets going.
Like many Canadian men, the father of three sons drafted to the NHL had some, let's say, below average lifestyle habits which led to his diagnosis of type 2 diabetes at age 40. Did Karl let this get him down? No way! By becoming more active, Karl is beating type 2 diabetes like an all-star sniper beats the glove hand on a goalie.
Which easy exercises prevent type 2 diabetes and deliver a wide range of other health benefits?
Here's Karl's routine and its working for him:
The wonders of walking
Instead of driving the kids to school, try walking them there. It'll set a good example for the brood, do them some good as well, and give you all some extra time together.
If you park your car at work, use a more distant parking lot and walk the difference. Slap on some headphones and listen to your favourite tunes while you stroll. Or take a route through a leafy park or up a hill with a view. Or do both! Pretty soon, the good times you're having will make you look forward to your daily strolls (if not the deadlines at work).
Speaking of work, use the stairs instead of the elevator when you get there. Hoofing it up stairs burns a third more calories than regular walking.
If you take the bus or subway home after work, get off a stop or two early and walk the rest of the way. It's a great way to decompress!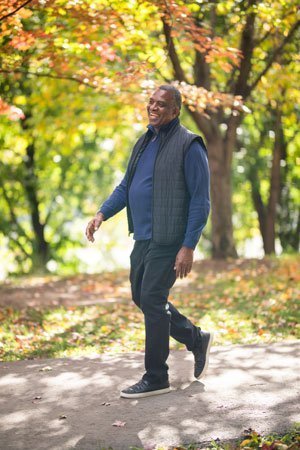 There's an app for that
The Canadian-made "7 Minute Workout Challenge" app is one of Karl's secret exercise weapons. Costing just $3.99 to download to iOS and Android smartphones, it boosts your heart rate and tones your muscles with a series of 12 exercises, such as squats and pushups, that require only a chair and a wall. It also shows you how to do easy exercises, which are performed for 30 seconds each with 10 seconds of rest in between.
If you're looking for a free fitness app, there's no shortage. For instance:
Nike Training Club: More than 100 video workouts crafted by professional Nike trainers let beginners set specific fitness goals like strength, toning or weight loss. A tutorial library helps you get the hang of workout moves.
Strava: Run, Ride, Swim (iOS and Android): Strava displays data like running (or walking) pace, distance travelled, and calories burned, and allows you to use Bluetooth add-ons to collect heart-rate and other info as you progress. Find friends and motivate each other with comments on workout summaries, or explore the best walking, running, cycling and swimming options for beginners in your area.
Make playtime a workout
Karl loves skating with his grandkids—who knows how many of them will make it to the NHL? Likewise, getting active with friends and family can be as easy as playing road hockey out front of your house, or heading to a nearby park for a hike, bike ride or game of pick-up basketball.
Swimming in a local lake? Easy! Tobogganing? Easy! Lake swimming and tobogganing on the same day? Not a good idea in Canada!
With Diabetes Awareness Month just around the corner, exercise offers special advantages to people with type 2 diabetes, as it improves the body's sensitivity to insulin and helps manage blood-sugar levels. If you don't have type 2 diabetes, regular exercise can help delay it or even stop it from developing. Can exercise help prevent type 2 diabetes? You bet it can!
Either way, getting active delivers a ton of awesome health benefits: Weight loss, stronger bones, improved blood-pressure control, lower rates of heart disease and cancer, and increased energy levels, to name a few. Just look at Karl: He has dropped almost 40 pounds since he kicked his exercise routine up a notch.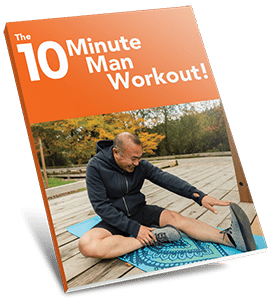 Free e-book
Start shrinking that spare tire in just 10 minutes!
Download this free e-book "The 10-Minute Man Workout!" to start shrinking your waistline in just 10 minutes a day.
Check the checkbox to receive more great tips each month.