Do you remember those motivational gym posters? The ones with words like "SUCCESS" and "ACCOMPLISHMENT" splashed across a cheesy photo of some dude sprinting along a beach at sunset? You don't need that kind of old-school motivation these days with all of the incredible fitness apps available.
Apps make it easier than ever to reach, track and monitor your fitness goals. The pandemic saw a ton of new ones hit the market. In fact, data shows that more than 71,000 health and fitness apps were released globally in 2020.
Given the seemingly endless options for fitness apps, how do you know which one to choose? We thought we'd save you some time by hand-picking our top 5 favourite workout apps for beginners in 2023:
1. FitOn App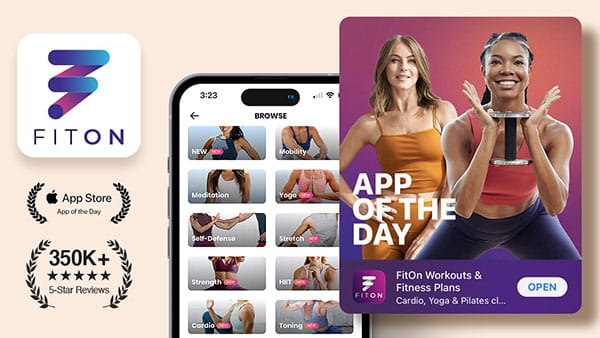 Free Download for Google Play and iOS
FitOn is a free app with lots of options. It has a huge community of over 10 million members. There are a number of different workouts to choose from, with lengths running from 5 minutes to over an hour.
It's easy to search for the type of video you want, including by duration, ability level, celebrity trainer, or intensity. You can even choose exercises that can be done with kids, and that will work in small spaces.
Pros
Unlimited free access
Set workout reminders
Big selection of workouts
Stream from a laptop, tablet, phone or TV
Works with smartwatches
Easy to use
World-class trainers
Cons
Ads interrupt your workouts in the free version
Nutrition and fitness tracker not included in free version
2. Johnson & Johnson Official 7-minute Workout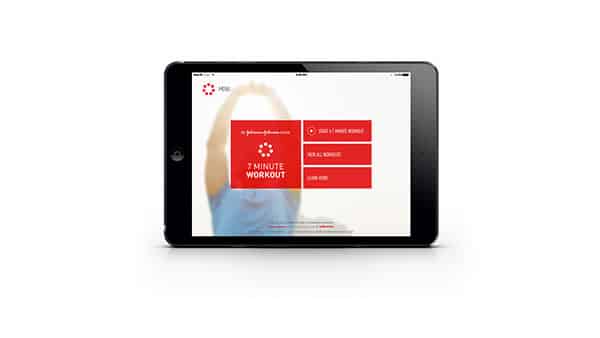 Free Download for Google Play and iOS
This simple app provides easy-to-follow workouts that can be done at home (think push-ups, burpees and jumping jacks). A voice guides you through each exercise with a video of a person showing you how to do each exercise.
The app offers 72 exercises and 22 pre-set workouts that vary in duration (7 to 32 minutes) and intensity (easy to hard), with a countdown clock to show you how long to do each exercise for.
Pros
Free
Easy to use
Create custom workouts
Syncs with Apple Watch
Cons
Only 6 pre-set beginner workouts are available
Will likely get boring after a while
3. Nike Training Club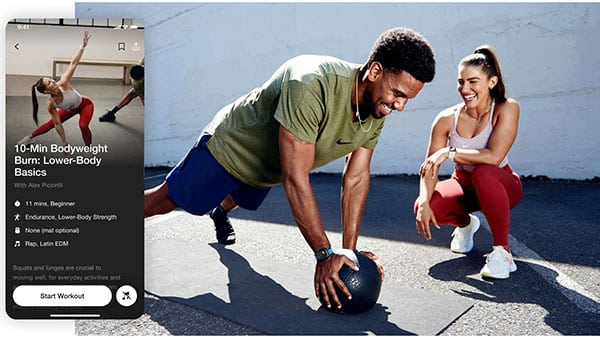 Free Download for Google Play and iOS
With more than 200 workouts crafted by professional Nike trainers, this app is a powerhouse of useful videos to help get you motivated to work out. Beginners can set specific fitness goals, like strength, toning or weight loss, and use the tutorial library to get each exercise right and avoid injuries. Are you feeling competitive? Link your profile with your buddies for extra accountability.
Pros
200+ free workouts
Classes last from 5 to 60 minutes
Track your progress
Easy to use
Good for all levels of fitness
Cons
Unable to preview workout before starting
Can't skip exercises you don't want to do
Need to download workouts to your phone
4. Centr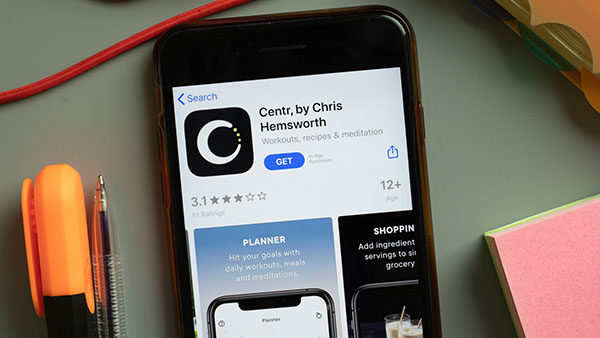 Free Trial for Google Play and iOS
This app is from Chris Hemsworth, the actor who is known for playing Thor in the Avengers movies. The app is like having a mindfulness coach, personal trainer, and meal planner at your fingertips. You won't get bored with nearly 1,000 workouts, 400+ recipes and 100+ mindfulness exercises—with more always being added.
This app is great if you want some help with daily planning. It provides you with a planner where you'll find each day's workout, meals, mindset challenges, and blog articles. However, if you're only looking for an exercise app, the extras might seem overwhelming. After the free trial period, it costs $30 USD a month or $120 USD for the year.
Pros
One month free trial
Wide range of programs
Includes meal plans
Includes mental health coaching
Geared towards men
Cons
So many features can feel overwhelming
Expensive
5. Zombies Run Game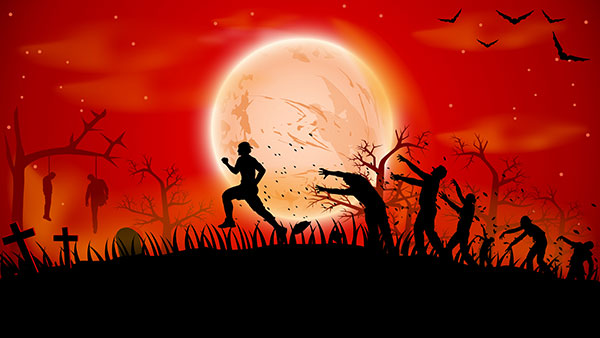 Free Download for Google Play and iOS
This game might give you the motivation you need to start running: zombies chasing you! This fun and interactive game gets you outside to run (or walk) away from zombies while collecting supplies and saving the world. There are over 20 missions to choose from. If you pay for the app, you get no ads and 400+ missions. The cost is $8 USD per month, or $48 USD for the year.
Pros
Option to play for free (with ads)
Makes running fun
Great for gamers
Cons
For running only
Limited missions for free users
Is there a fitness app that's worked for you? Tell us your favourite fitness app in the comments below!
What does your health future look like?
Learn your risk level for the 8 most common health conditions that impact men. Free, confidential and takes less than 10 minutes to complete. Take control of your health with Men's Health Check.