"I have fond memories of growing up on the skating rink that my Dad made for us in our backyard."

NHL All-Star P.K. Subban
P.K.'s father, Karl Subban, was born and raised in Jamaica. How many backyard rinks are there in Jamaica? You guessed it: Zero! Not only did Karl immigrate to Canada to start a new life, he also dedicated himself to learning skills that would help send THREE of his sons to the National Hockey League. Wow!
"Family is so important. If I can't be part of their lives because of my health condition, that was one of the things I had to work through."

Karl Subban
Like so many dads across Canada, Karl inspires us all with his dedication to others. This Father's Day, however, Karl's own healthy efforts to control his type 2 diabetes are inspiring other guys to take care of themselves, as well as the people they love, one easy step at a time. What kind of small healthy steps can you take? You've come to the right place to get started!
As Karl says in this awesome new video, "family is so important. If I can't be part of their lives because of my health condition, that was one of the things I had to work through."
So as well as looking after yourself this Father's Day, encourage your own Dad to look after himself, too! It's as easy as doing something healthy together. For instance:
Take a stroll
One of the best things about Father's Day is that it takes place in June, when the snow has melted, the sun is (hopefully) shining, and spring is in full swing. What better time, then, to take a walk with pops in a nearby park or nature preserve? Plus, there's more to walking than enjoying time together: Doing it briskly for 30 minutes burns around 250 calories, with guys who do it regularly lowering their risk of heart attack by 25 percent. Nothing says "I love you Dad" quite like that…
Tidy up the yard
If Dad is a "getting things done" kind of guy, helping him whip the yard into shape can help improve the shape both of you are in. Climbing ladders to clean eavestroughs, for instance, burns around 320 calories an hour, and moving the ladder more often than usual will boost that number significantly. Shovelling soil burns more than 400 calories an hour, and if you lift the load to chest height and hold it for 10 seconds it works all your major muscle groups: legs, core, back, shoulders and arms. Then there's the lawn: Pushing a gas-powered mower burns 300-plus calories per hour, with a manual mower adding nearly 200 calories to that figure. You do the back yard, and Dad can do the front. Just don't miss a spot, because he's sure to notice!
Make Father's Day lunch together
Does Dad know that guys are deemed sexiest by their significant others when they're whipping up meals? If he does, he may go on to tell you that's how you were conceived! If he doesn't know this very fun fact, what better way to get him into the kitchen? Seriously though, there are plenty of satisfying, easy-to-prepare lunch dishes that are bound to impress friends and family joining in the Father's Day festivities.
Does Mexican food get your mouth watering? Check out these 6 Amazing and Healthy Mexican Recipes.
If you and Dad like getting together to cheer on your team, these 8 Delicious Recipes for a Healthier Game Day are all slam-dunks!
Last but not least, if some quality time around the barbecue sounds about right, check out the "Awesome Halibut Burger" in the free 7 EZ Power Up Recipes ebook.
Do you have an easy health tip you'd like to share? Help out other guys by sharing it in the comments below.
This article was originally published on June 12, 2019.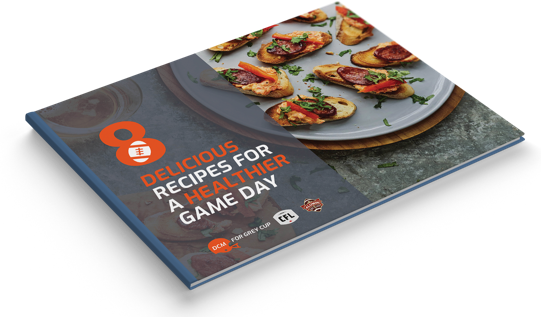 Free e-book
Want to make a full spread of crowd-pleasing game day food? Get the free handy booklet.
Grab this free e-book "8 Delicious Recipes for a Healthier Game Day" for healthier game day recipes that are sure to please a crowd.
Check the checkbox to receive more great tips each month.