Let's be honest, guys, if our true love's got us the "magic cure" for hangovers as a gift this holiday season, we'd be stoked. All of those cups of cheer can add up, even if most of our drinking with friends will be taking place on video calls this holiday season.
The good news: it can actually be easy to avoid a hangover while still enjoying some festive cheer. Heed these five tips to help prevent a hangover, and you can get your buzz on without paying for it with a pounding headache and pukey feeling the next day.
1. Chase every drink with a glass of water.
Not a sip or two of water after every drink. Not a glass of water for every three drinks. One bottle of beer. One glass of water. One scotch on the rocks. One glass of water, you get the picture. Water helps your body process and eliminate alcohol, so removing it from your system ASAP with plenty of water will result in a milder, or even non-existent, hangover.
2. Drink plenty of water after drinking
Dehydration isn't considered the main cause of hangovers, but it contributes to symptoms such as thirst, headache, fatigue, and dry mouth. Okay, if this is starting to sound a lot like a hangover, you get the point. Drink water during and after a few highballs.
3. Drink clear liquor on the rocks
Adding ice to drinks dilutes them, cutting the alcohol content (by volume) and reducing the frequency of refills. Many people like to mix booze with sugary things like pop or juice, which makes hangovers worse. So drinking your liquor straight up can actually help you with hangover prevention when you moderate it. It also turns out that dark-coloured liquors such as whiskey, brandy, and red wine may cause worse hangovers than vodka, gin, and other clear liquors. Unfortunately, no matter what the colour your drink is, you're going to feel like crap the next day if you drink too much of it.
4. Wine and dine on protein, not sugar
A full stomach slows down the rate at which alcohol is absorbed into the bloodstream. High-protein foods such as eggs, nuts, and lean meats take longer to digest, and so they give your body more time to break down alcohol.
Booze is full of sugar, especially when mixes such as pop and juice are involved (as mentioned above), and this sugar is thought to be part of the reason we get hangovers in the first place. That's why shortbread cookies and milk chocolate Santas are not ideal foods to eat while drinking.
5. Get your Zs
Alcohol can impair both sleep quality and duration, and staying up late while drinking can disrupt your entire sleep schedule. Although poor sleep doesn't cause hangover symptoms, it contributes to fatigue and irritability. If possible, try to stop drinking at least 4 hours before bedtime to get a decent sleep and feel good the next day.
There you have it, folks. It's easy enough to get your buzz on and come out of it feeling great. The key to preventing "Rudolph Nose" is simply moderation.
Do you have any hangover prevention tips that work well for you? We'd love to hear them in the comments below.
This article was originally published on December 14, 2016.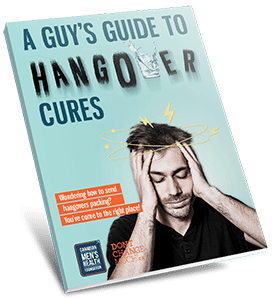 Free e-book
If you're wondering how to get rid of your hangovers, we've got your back.
Grab this free e-book "A Guy's Guide to Hangover Cures" for quick tips to get rid of your hangover.
Check the checkbox to receive more great tips each month.