With St. Patrick's Day just around the corner, now seems like a great time to warm up for March 17 with a good old-fashioned limerick. (A limerick, by the way, is a five-line verse in which the first, second and fifth lines rhyme, while the third and fourth lines are shorter and share a different rhyme.)
So here goes: There once was a man from Nantucket…
Whoa now — this is a PG-rated blog! Besides, it just so happens that the aspiring poets at Don't Change Much have come up with their own ode to keeping it real on St. Paddy's Day:
Hey there Tall Tin
You look kinda thin
But you hold much more than a stubby
And once you're all gone
We've got our buzz on
Without getting any more chubby
With you, yes, it's true
That just two will do
Instead of a gut-forming 'sixer
So here's to you, Tin
Now let us begin
Time to savour your golden elixir…
It's catchy, and it's TRUE: Bring home a six-pack, and before you know it the whole shebang has been drained. (It's beer>, after all.) Bring home two tall cans, however, and the magic word—moderation—kicks in automatically.
Of course, there's nothing wrong with downing a cold one or two. But on St. Patrick's Day, the line between moderation and excess can start to blur—along with everything else—and that's when health problems can rear their ugly heads. Drinking too much on a regular basis may lead to erectile dysfunction and low testosterone, and has been shown to cause some cancers and liver damage. Yikes!
That's where the heroes of our goofy poem come in. Tall cans of beer—a.k.a. tallboys or tall tins—are widely available as singles. Bottles of beer, meanwhile, tend to be sold in six-, 12- or 24-packs. Grab a couple tallboys, and you'll enjoy 946 millilitres of golden elixir and feel a nice glow. A six-pack of bottles, however, adds up to more than twice as much booze (and expense). This goes waaaaaay over research-backed guidelines for safe drinking: no more than three drinks per day, with two alcohol-free days per week. Plus, drinking a six-pack of beer in one sitting is considered binge drinking, and that is SUPER-unhealthy.
Choosing two tall boys instead of a 'sixer is just one of many easy ways to reduce your beer intake on March 17 and beyond. Wondering how to drink less beer? Here are five more easy tips:
Beer, water, repeat
When you order a green beer, ask for a glass of water with it. Then finish off that water after each and every emerald beverage. Why? Studies have shown that drinking water can reduce your beer intake. Water also helps your body process and eliminate alcohol, so removing it from your system ASAP by drinking water will result in a milder, or even non-existent, hangover. Now THAT'S a win-win!
Glasses half full
Research reveals that filling glasses halfway up significantly cuts alcohol consumption. So crack open one of those two tallboys, fill half your mug, and put the tin back in the fridge until you're ready for a refill. That way, every sip will be frosty!
Just let go
Leaving your glass on the table, instead of holding it, has been shown to lead to smaller pours. Measurement markings on straight-sided beer glasses, meanwhile, can slow down the rate at which you drink.
Avoid boozy situations
No matter how much you want to cut down on alcohol, parties or nights on the town can lead to drinking and, in turn, to over-imbibing. Controlling the environment—say, by inviting friends over for some Canadian Irish stew and a bit of O' Blarney in the kitchen—tends to lead to less alcohol consumption.
Fun ≠ alcohol
Make a list of activities you enjoy that don't have to involve booze—watching movies, hiking, photography, getting it on, the list goes on—and slot them in at those times when you're likely to be tempted to drink too much. Hike home from the bar after you've enjoyed a couple brews, for instance, or head for the bedroom well before last call.
And if you want to bust out a naughty limerick, more power to you!
Do you know of any other nifty ways to cut down on drinking? Help your bros by sharing them in the comments below!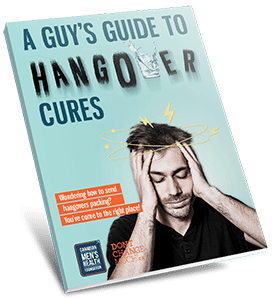 Free e-book
If you're wondering how to get rid of your hangovers, we've got your back.
Grab this free e-book "A Guy's Guide to Hangover Cures" for quick tips to get rid of your hangover.
Check the checkbox to receive more great tips each month.