Sing it with us: "If you like Pina Coladas, and getting caught in the rain . . ."
Who are we kidding? Getting drenched isn't all that awesome, especially when you're wearing jeans and a flannel shirt. Thankfully now that summer is here, we're in for more sunny days than rainy ones.
On a summer's day, there's nothing quite like sipping a frosty beverage on a hot patio. However, enjoying any kind of cocktail may seem tricky if you're trying to live healthier, feel better, shed pandemic pounds, and save some coin by drinking less alcohol. If you find yourself reaching for a beer, wine, or cocktail more often since the pandemic started, you're not alone. Almost one in four Canadians believed their alcohol consumption has increased, compared with the pre-pandemic period.
Well, it turns out you can have your cocktail and drink it, too. After all, many popular mixes can be just as tasty with less or no booze. Pack a glass with ice cubes, pour tonic water, diet cola or Clamato over the top, and squeeze in some fresh lime or lemon. The result is just as refreshing and tasty as a regular gin and tonic, vodka and cola, or bloody Caesar. If you miss that hint of booze, use one ounce or just a splash instead of two ounces. If you're more of a beer man, there are plenty of alcohol-free options. Every little bit helps, right?
With life starting to open up again (woot), it's the perfect time for a fresh start. What better way to start fresh than by reducing your alcohol consumption? Check out these ultra-satisfying non-alcoholic summer drink recipes to help quench your thirst on a hot day.
Sparkling Pom Collins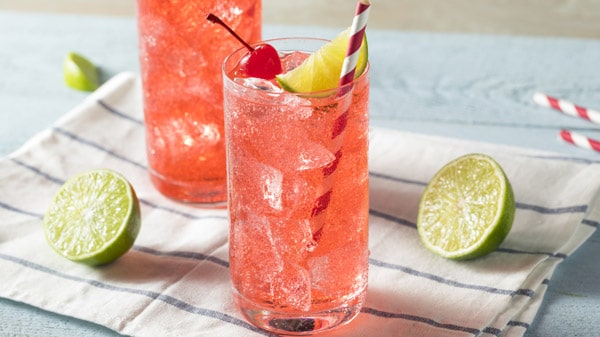 This non-alcoholic version of the Tom Collins puts a Vitamin C-rich twist on an old favourite. Makes one serving.
Ingredients
1 cup pomegranate juice
Half a cup soda water
2 ounces fresh lime juice (from about 2 limes)
Ice
Instructions
Squeeze lime juice into two tall glasses filled with ice
Pour in the pomegranate juice and soda water
Stir and enjoy! So easy.
No-Booze Penicillin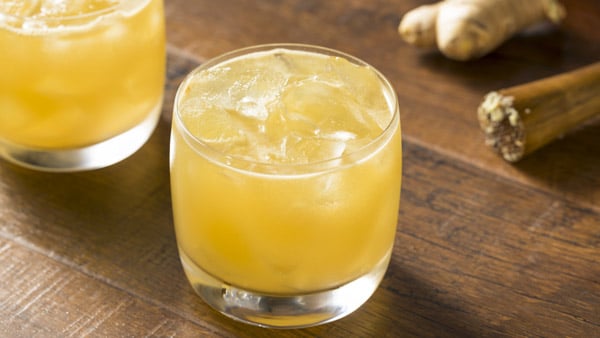 This tasty take on a blended-Scotch classic replaces whiskey with black tea. An awesome festive option for entertaining a crowd. Makes four servings.
Ingredients
1 tablespoon loose-leaf black tea
1 cup boiling water
1 tablespoon fresh ginger, minced
A tablespoon of honey
2 ounces fresh lemon juice (from about 2 lemons)
Ice
Instructions
In a teapot or cooking pot, steep the tea in the boiling water. Let steep for about 4 minutes, then strain out the leaves.
Add the ginger and honey to the tea, stirring gently until the honey is dissolved. Allow the mixture to infuse for 15 to 30 minutes, then strain out the ginger, pressing gently on the solids to squeeze out any remaining liquid. You should have about one cup of liquid.
Add half the lemon juice, then taste and add more until the sour, sweet, and spicy balance is to your liking. Refrigerate the drink until ready to serve over ice.
The Nilsson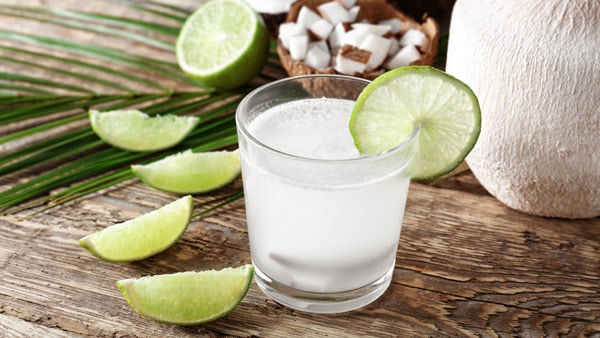 If you can't decide between a pina colada and a daiquiri, this tasty option combines the two. Makes two servings.
Ingredients
A bag of crushed ice
4 ounces fresh lime juice (from about 4 limes)
2 ounces coconut cream
4 dashes of pimento bitters (available at many liquor stores)
2 lime wheels for garnish
Instructions
Fill two short glasses with crushed ice.
Fill a large cocktail shaker two-thirds of the way with ice cubes, then add the lime juice, coconut cream and bitters.
Shake hard, about 15 seconds, then strain into the glasses of crushed ice. Garnish with the lime wheels.
And there you have it: three awesome drinks with no booze!
Do you have any favourite mocktails you'd like to share with our readers? Please share in the comments below!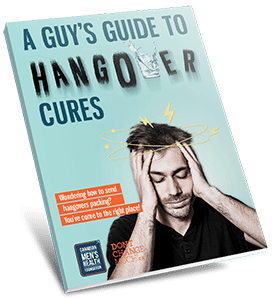 Free e-book
If you're wondering how to get rid of your hangovers, we've got your back.
Grab this free e-book "A Guy's Guide to Hangover Cures" for quick tips to get rid of your hangover.
Check the checkbox to receive more great tips each month.