After a long day at work, unwinding with a drink can sound like the ideal stress reliever. However, have you ever woken up with a killer hangover and weren't in top condition to tackle the day's to-do list? Did that stress you out just a bit more? Sometimes, like with that hangover example, alcohol adds to or even creates your stress.
So what else can you do to reduce stress beyond reaching for a cold one in the fridge? Here are five simple, stress-reducing tips for you to try the next time that beer is calling:
Get out in nature
Being in nature, and I mean deep in nature, is a cure for stress. Go hiking, hunting, trail running, dirt biking, or golfing. Whatever you choose to do, disconnecting and spending time in the great outdoors is an excellent way to destress after a tough day, and as little as 20 minutes spent outside has health benefits.
The outdoors is a space with no chores, no bosses cracking down on you, no to-do lists, just peace and quiet.
A pro tip: physical activity like hiking and trail running can also help you gain muscle, help you shed some weight, boost your sex drive, and lead to a healthier heart. Need I say more?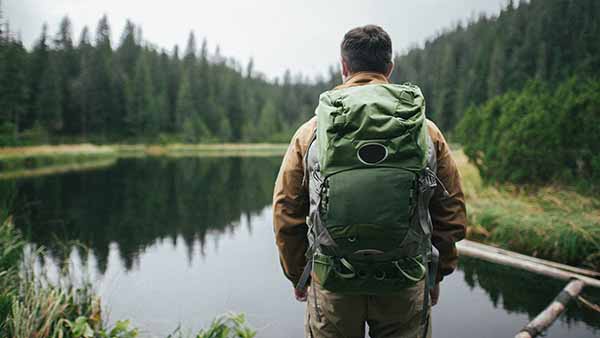 Hit the water
If greenery doesn't do it for you, try getting down to the dock, the beach, or the water instead. Go fishing, boating, swimming, kayaking, canoeing, or any other activity you enjoy while on or around the water.
Just sit and take a few minutes to breathe that fresh air. No physical activity is required. Breathing is a simple tool to bring everything back in balance and help reduce stress.
If you have a local pool you can get to, chances are there's a hot tub there, too. And what's more relaxing than a hot tub? Not much. Whatever the options available at your local pool, it's a place you can go, away from your work and home life, to have time to yourself to swim, tub and relax. Be sure to check the pool's website before you go, as you may need to register for a time slot and review the facility's COVID-19 guidelines.
Socialize with family and friends
Being social doesn't have to be a night out at the bar with the guys. Think about things like game nights with your kids, the local hockey team's next game, or a family BBQ where you get to be the grill master. What makes those events fun is the opportunity to hang out with your friends and family.
When stressed, we benefit from the social support we get from others. So think about activities you like to do with your friends and family and will enjoy without a beer in hand—try those as a stress reliever instead.
Try a new activity within your community
If the appeal of the social beer is strong even at those family and friend activities, look for opportunities in your area to join clubs that interest you but don't focus on alcohol. How about the local ATV club or fishing club? You could even join your local gym if the hours match up with your ideal times to work out.
Consider groups, clubs, and memberships that give you a sense of community and help take you out of that stressed zone.
Laugh
Hear me out. We've all heard the saying, "laughter is the best medicine." Well, cheesy as it sounds, it's true—laughter releases the hormones in your body that make you feel better and happier. So, when you're feeling stressed, do things that make you laugh:
Watch a comedy special.
Listen to a funny sports podcast.
Play a fun game with your kids.
Do something that takes you out of your stress headspace and gives your brain a few moments to just enjoy a good laugh.
While a nice, cold beer after a long workday can be relaxing, there's a fine line between the enjoyment of a drink and the crappiness you feel the next day. When you drink too much, it can cause impulsive and aggressive behaviour, impaired concentration and judgement, and memory loss.
Not to mention the physical symptoms: diarrhea, sweating, vomiting, and dehydration that leads to headaches, dizziness, dry mouth, and more. Long-term, unhealthy drinking habits can lead to mental health problems and disturbed sleep patterns.
So there's good reason to stick to the guidelines if you're going to drink and, better yet, to choose a different stress-reliever after a tough day.
How have you stopped stress in its tracks? Share your tips in the comments below!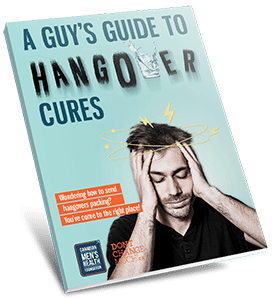 Free e-book
If you're wondering how to get rid of your hangovers, we've got your back.
Grab this free e-book "A Guy's Guide to Hangover Cures" for quick tips to get rid of your hangover.
Check the checkbox to receive more great tips each month.