As men, we usually live up to our stereotypes when it comes to relationships. But as thick-headed as we can sometimes be, we know those petty fights with our girlfriends/wives/partners aren't really about the dirty dishes or whose turn it is to take out the garbage.
Researcher John Gottman – pretty much the guru of solving relationship problems – has figured out the key ingredients to a sex-filled relationship where both partners are happy. Gottman's so good he's able to predict with 91% accuracy if a couple will end up crashing and burning after watching them talk for just five minutes.
Sounds like a gimmick, right? But here's another Gottman eye-opener: couples in positive (i.e. amazing sex) relationships invest an extra five hours in each other each week, and the ways they do it really aren't that hard to figure out. So use these six relationship tips and you'll find yourself more busy in the bedroom in no time.
1. Make it a good farewell: Don't slumber out of the house with your travel mug after a quick peck on her cheek. Look your lady in the eye on the way out the door and tell her she looks like a babe today.
2. Post-work debrief: Let's face it – work can sometimes drain your energy. You never know whose day was more stressful/frustrating/amazing on any given day, so make room for a 20-minute chat when you get home. Listen when she's talking and she'll do the same for you.
3. Admiration and appreciation: Find a way to compliment your lover every day through words or action – flowers and small gifts are good, but try something different like doing her share of the housecleaning on a Saturday or even giving her a five-minute foot rub while watching TV. Don't demand she return the favour, but don't be surprised if she does anyway.
4. Affection: Women usually need more physical affection than guys, so it's on us to make the effort. Hugs, kisses and yes, even the inevitable couch-cuddling are going to improve both your moods. Gottman says goodnight kisses are mandatory – and it doesn't need to stop at that…
5. Weekly date: This is the big one, time-wise. We're talking two hours or more each week. It might sound tough with other commitments, booking a babysitter, etc.. But one-on-one dates outside the house are usually where the best conversations happen. Dust off that suit jacket and take her to a place she loves.
6. Spend some time apart: Wait, isn't this exactly the opposite of what we're meant to do? Believe it or not, research shows that couples with the best sex lives and relationships keep up regular commitments that don't involve their partner. That doesn't mean drinking three pitchers of beer with your bros – we're talking about hobbies or a weekly fitness class. Start something new and show her you've got some initiative.
If you want to learn more about mental health, check out the Guy's Guide to Mental Health.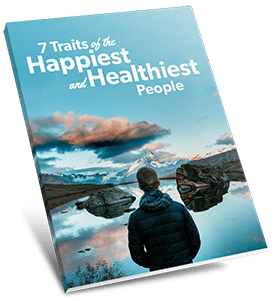 Free e-book
If you're thinking about increasing your energy and waking up happy, we've got your back.
Download the "7 Traits of the Happiest and Healthiest People", to increase your energy and wake up happy.
Check the checkbox to receive more great tips each month.