Do you find yourself thinking that salad is rabbit food? Other than the quantity of sex that rabbits have, you probably aren't interested in becoming one. Maybe you think you need carbs and protein to avoid becoming a 'hangry' man!
The solution: three man-salads that help with 'hanger' management.
But first, let's share our secret on how to turn rabbit food into man food: make the best damn salad dressings you've ever tasted! Ones that make you want to eat more. Follow this guide and your tastebuds to party town.
The basic rule of all salad dressings is one-third acid and two-thirds oil. Mix any type of acids like balsamic vinegar, white or red wine vinegar, mustards, lemons, and limes with olive or avocado oil.
Pro chefs often use more than one acid in the same dressing. Add salt and pepper, maybe some diced shallots, other spices such as oregano or basil, and even a squirt of honey. Bam! Rabbit food is now man food! Plus, you'll impress your partner.
So let's dive into the top 3 man salads.
1. Steak and Spinach Salad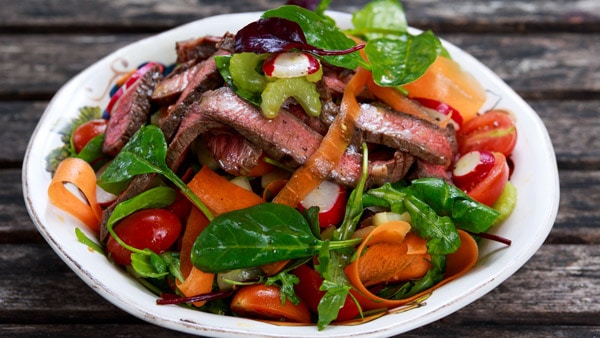 The trick to enjoying salad is to make it taste great. Don't skimp out on flavour, and what better way than topping it with a high-quality cut of AAA Canadian Beef. Why add spinach, you may ask? Although Popeye goofed around a lot, he was no fool. He knew that spinach—packed with nutrients and health benefits—is a superfood.
The Beef
Grilled AAA sirloin or ribeye needs nothing more than salt and pepper.
Use a meat thermometer to cook it to your liking, or kick it old school with the finger test.
Take off heat and let the meat rest for 5 minutes before slicing and placing on top of the salad.
Optional: top your steak with blue or goat cheese if that makes you think, "hell yeah!"
Qty guide: 0.5lb or 8oz per person.
The Dressing
1 tbsp dijon and/or grainy mustard
1 tbsp balsamic vinegar
4 tbsp olive oil
1 tbsp honey
Salt and pepper
Qty guide: the above works for 2 to 3 meal sized salads
Tip: you can make a big batch and keep it in the fridge for convenience.
The Greens
1 box or bag of pre-washed baby spinach (or tear up larger spinach leaves).
Throw in any other veg you like such as tomatoes, avocado, cucumber, and red bell peppers.
Optional: add pumpkin or sunflower seeds for a crunch factor if that floats your boat.
Like steak salad and want more? Here's another variation of steak salad with an Asian twist.
2. Turkey, Black Bean, and Corn Taco Salad
Want to tear a strip off the belly bloat? Go Mexican, and don't forget the cheese! ¡Ándale, ándale! This is a favourite go-to recipe that kids love. All you need is the base, the toppings, and the delivery vehicle.
The Base
Add some olive or avocado oil to a skillet on medium heat.
Add 1lb of ground turkey.
Spice with salt, pepper, 2 tsp chili powder, 1 tsp onion powder and 1 tsp cumin.
Mix and cook turkey until lightly browned.
Add juice from ½ of a lime.
Add 1 can of black beans.
Add 1 can of corn.
Heat until warm.
Mix in a handful of chopped fresh cilantro at the end.
Qty guide: the above works for 2 to 3 adults.
The Toppings
Diced tomatoes
Sliced avocados
Jalapeños
Sour cream (0 to 5% fat)
Fresh lime juice (just put out some wedges)
Grated cheddar or Mexican cheese
The Delivery Vehicle
This is where you get to stretch the boundaries of 'salad' and eat with your hands. Load your base and toppings into a large romaine or kale leaf to eat it like a taco. They are messy as hell, so keep some napkins handy. Kids love the 'stuff n stand' tacos, and, heck, you'll want one too.
3. BBQ Chicken Coleslaw
There are very impressive health benefits of this coleslaw's two main ingredients: cabbage and carrots. Better yet, they last forever in your fridge, so it's easy to stay stocked up. Can't be bothered to cut up all that veg? No problem. Most grocery stores stock ready-made mix.
The Chicken
Lightly coat two chicken breasts with olive oil, salt and pepper.
Bake on a non-stick surface or barbecue for 15 minutes at 350.
Brush one side with your favourite BBQ sauce and cook for another 5 min.
Flip and add BBQ sauce to the other side of the breast. Bake for another 5 min.
Qty guide: 1 medium breast per adult.
Tip: cooking times are guidelines. Be sure your chicken is cooked in the middle!
Tip: BBQ sauce has sugar in it, which burns, so don't put it on too early.
The Slaw
1 cup red cabbage thinly sliced
2 cups green cabbage thinly sliced
1 cup grated carrots
1 tbsp mayo (preferably olive oil mayo)
2 tbsp of nonfat greek yogurt (or low fat sour cream)
1 tbsp of olive oil
3 tbsp lemon juice
Cayenne
Paprika
Salt and pepper
Optional: throw in a handful of sunflower seeds
Qty guide: feeds 2 to 3 adults
Tip: take 5 min to learn how to cut cabbage for a lifetime of time savings!
If eating greens were never satisfying or filling, start experimenting with flavours and find ones that keep you coming back for more.
What's your food tip for hungry guys? Please share in the comments below.
Know Your Health Risk
In 10 minutes, learn your risk level for the 8 most common health conditions affecting Canadian men. Men's Health Check is free, anonymous and backed by medical experts.