After a long day, these sleep apps can help you get the sleep you need.
There are goofy apps for all kinds of things like timing pee breaks during movies, tracking where you've pooped, and duelling with sausages (the food). So it's no wonder dozens of sleep apps are designed to help you sleep.
You need somewhere between 7 and 9 hours of sleep each night to stay healthy. If you pull that off you'll end up spending about a third of your life in Slumberland. That's WAY longer than you'll spend sausage-duelling (we hope).
What is the best sleep app?
If you're wondering how to fall asleep or how to sleep better, a wide range of free sleep apps can help you get the Z's you need. Not all are created equal, however, so here are five of the best sleep apps tested by the Don't Change Much team:
Do you have a go-to sleep app on your smartphone? Share your favourite sleep app from the comments below.
This article was originally published on March 12, 2020.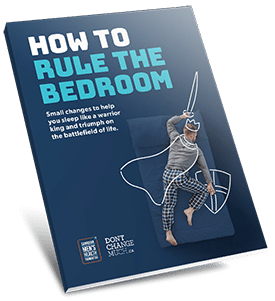 Free e-book
Are you trying to get more and better sleep? If so, we've got your back!
Grab this free e-book "How to Rule the Bedroom" for small changes to help you sleep like a warrior king.
Check the checkbox to receive more great tips each month.