The holiday season is behind us, and if you find yourself having drinks as if it were still December, February could be the right time to take a break. Why February? Well, it's Dry Feb, an awareness campaign, challenge and fundraiser put on by the Canadian Cancer Society.
Joining others by going dry this month can help take the pressure off social situations, give you time to reflect on your habits and make a few healthy lifestyle changes—even if it's just to see how it makes you feel.
Apps to help you drink less
Cutting back on or cutting out drinking may not be easy at first, but luckily, there are apps to help get you started. Check out the list below.
Sober Time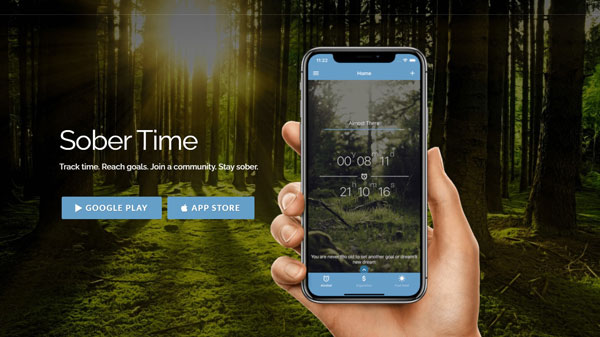 Sober Time is a sobriety tracker with detailed goals, milestones and statistics that can give you a real sense of ongoing accomplishment. The app also includes community support with a message board so you can connect with other members to share wins, experiences, and challenges.
Download on Google Play and the Apple Store. Or check out their Website
Pros
Well designed
Excellent for tracking your sobriety
Helps give a sense of accomplishment
Community message board
Free to use but with ads (Paid version removes ads)
Cons
Free version can overwhelm with ads
Light on motivation and education elements
Reframe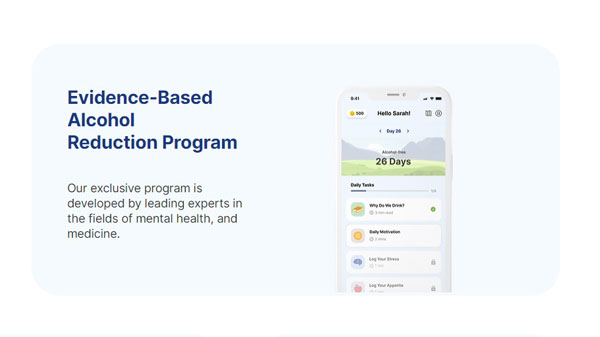 This is an app that really brings the power of science to help curb or eliminate drinking. Educational and focused on behaviour-changing strategies through activities like games, journaling and meditation. Only available for iOS, Reframe is very personalized and, with the premium version, includes one-on-one coaching.
Pros
Free 7-day trial
Personalized
Science-backed strategies
Premium version includes one-on-one coaching and video content
Easy to use
Cons
Not available on Google Play
Premium version pricing could be prohibitive
Download on the Apple Store. Or check out their website.
Less
This nautical-themed app wants to help you navigate the waters of sobriety. Primarily a tracker app to help you be in control of your consumption, Less is intuitive, easy to use and has a playful side.
Pros
Easy-to-use tracker
Engaging design
Educational about the importance of reducing alcohol
Great for reducing drinking
Free
Cons
Not really designed to quit drinking
Nautical theme may not float your boat
Download on the Apple Store. Or check out their Website
Nomo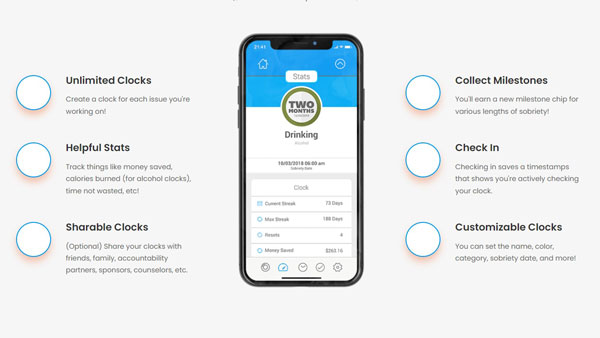 A great app for those who don't want anything too complicated. Nomo is simple and direct, giving you the ability to create and share (if you want) clocks that track basically anything you want to track—days sober, days without a cigarette and so on. It also has extra features like an encouragement wall, accountability partner searching, private messaging with partners, milestone awards and gamification.
Pros
Great tracker with as many clocks as you need
Simple, so you don't get overwhelmed with extras
Optional features are there if you want them
Free
Cons
Hasn't been updated since 2019
Some encounter frustrating bugs
Free, but ads can be annoying
Download on Google Play and the Apple Store. Or check out their Website
Benefits of drinking less
If you aren't aware of the harm drinking can cause, you may not be as motivated to use those apps. We've put together this list of health benefits for people who drink approximately 3 or 4 alcoholic beverages several days a week.
Let's dive into the benefits while highlighting some common myths you might have heard.
Improved feeling of well-being and better mood
Common Myth: "Drinking makes me feel good and makes me happier."
Alcohol has a big impact on the brain and mental health. And we're not just talking about the day-after hangovers and headaches (although those are bad enough!). Many people think that drinking makes them feel better or is a way to help them 'unwind' and relax, but a large and growing amount of research shows that alcohol increases feelings of anxiety after use.
Instead of relaxing you and making you feel better, alcohol contributes to negative feelings and stress, which can become a difficult cycle to break. So, going dry could really help you feel happier, which sounds like a pretty great benefit.
Better sleep
Common Myth: "A few drinks helps me sleep better."
It may seem like having a couple drinks before bed helps you sleep better because you fall asleep faster. But falling asleep is not the whole story of a good sleep. Alcohol will affect sleep later in the night as it works its way through the body, particularly impacting REM sleep and increasing sleep disruptions.
Sleep is also foundational to both physical and mental well-being. If you sleep better, you tend to feel better both physically and mentally.
Healthier heart
Common Myth: "Some alcohol is good for the heart."
It seems like for years, we've heard that moderate drinking has minor benefits for heart health. As research piles up, though, it's looking like that's not at all the case. And, yes, it turns out that that includes red wine. Simply put, alcohol has been shown to raise blood pressure and increase your chance of cardiovascular disease.
Reduced risk of some cancers
Common Myth: "There's no connection between alcohol consumption and cancers."
Admittedly, it may be a stretch to say there's a common myth about alcohol and certain cancers. But there certainly is a lack of awareness which is really starting to change.
Alcohol has been shown to increase the likelihood of some cancers, including colon, oral and breast cancers. This Increased risk has even been shown in light or moderate drinkers. There's also recently been a push to put cancer warning labels on alcohol in Canada in order to raise awareness of the risks associated with drinking.
Save money
There's no common myth here, we can all agree alcohol is an expensive indulgence.
Ok, so this isn't exactly a health benefit unless you spend your alcohol savings on vitamins or workout equipment, but it's no secret that drinking is expensive—especially if you drink out at pubs, bars and restaurants. Costs are going up across the board, and if you can save money and your health, that feels like a win.
More dry days means more healthy days
This Dry Feb is a perfect opportunity to reduce or remove drinking from your life and see the benefits first-hand. Knowing that many other people are taking part can make it easier in social situations to stick to your goal. Hopefully, one of the apps we've highlighted helps you to give Dry Feb a go.
An important note about alcohol disorders
The tips above are intended for casual or light drinkers who are trying to cut down. If someone has an alcohol addiction, they need to speak with a healthcare professional to come up with a safe treatment plan. Check out these resources to get the ball rolling.
Is there an app that's helped you reduce or quit your drinking? Or have you reduced or quit drinking and noticed the impact it's made in your life? Please share in the comments below.
Not Feeling Like Yourself?
Tackle chronic stress, anxiety and depression with MindFit Toolkit. Access free mental health tools designed for men.