You've had a long day, you're tired, and it's dinner time. Walking into the kitchen, you smell that oh-so-familiar smell of homemade deliciousness, like Amritsari fish or aloo gobi. Whatever the dish, you're happy you aren't the one cooking, and you get to hitch a free ride to flavour town.
We know that traditional South Asian cooking can be a labour of love. With jobs and maybe even kids, who has the time for all that?
Don't worry, I got you. I've come up with an easy to make, healthy take on a Tandoori chicken recipe that you can whip up in under 15 minutes. Eating to prevent diabetes can be simple, and if you're managing diabetes this recipe works for you too.
Before we chow down, check out these health tips to jumpstart your journey to better eating. Including some of these tips into your day-to-day will help prevent diabetes from getting a hold of you, kinda like a Rishta Aunty that just won't shoo until you do what you need to do.
1. A little fibre can go a long way
Arey Bhai, remember when your Mom made you eat dahl, cholay, and raj mahn? Turns out there was a reason for that. These foods are packed full of nutrients like fibre!
From helping manage blood sugar to lowering cholesterol, increasing fibre in your diet has many health benefits. Upping your fibre intake doesn't have to be as dramatic as eating flaxseed every day. It can be as simple as swapping out white rice for brown rice and your poop will be happier to.
2. Go for the greens
At the Olympics, you want to go for the gold. At home, go for the greens! Vegetables are low in calories, take longer to digest, leaving you feeling fuller for longer, and pump your body full of essential vitamins and minerals. According to Harvard University, "Being overweight increases the chances of type 2 diabetes seven-fold." Keeping your weight in check by eating more of those veggies is a winning game plan!
3. Don't hate all fat
Eat healthy fats. Yup, you read that right! Romi Johal registered holistic nutritionist from Fit Nation BC, says, "Healthy fats aid in stabilizing sugar levels." In other words, they help to keep your blood sugar at a normal level, which means they won't lead to that sugar high or crash many people are familiar with. Now that's something you can turn into a viral WhatsApp message!
An easy way to make sure you're cutting down on unhealthy fats is by limiting how much processed food you eat like chips or certain snack mixes. Canada's Food Guide can help you choose foods rich in healthy fats like avocado, nuts, seeds, and fish.
4. A knife changing experience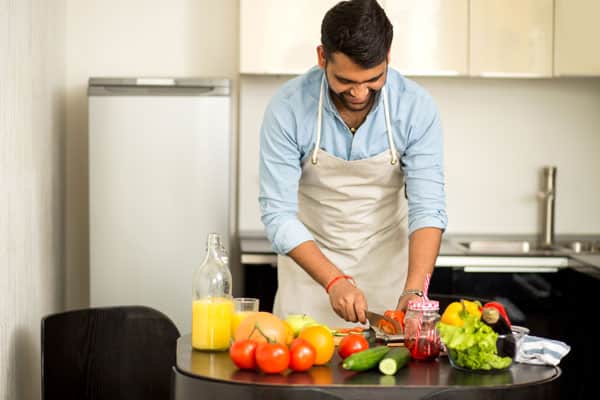 What you put in your mouth matters, so why not take control of it? New to knives? No worries, you don't need to own a slap chop to slice and dice with a knife. Cooking doesn't have to be complicated. Try working towards having 2 or 3 go-to recipes, and you're sure to score extra points with your partner when you whip up those bad boys. Added Bonus? Not only will cooking a recipe like ours help with diabetes prevention, but enjoying a quality South Asian diet at home also creates healthy eating habits for you and your family.
The Recipe: Bang it out Tandoori Chicken
You don't have to be Gordon Ramsay to pull this one off – I made sure of that. Just made this recipe again recently. It was hella good, damn easy to do, and that made me one very happy man.
Recipe
Ingredients & Directions

1 skinless chicken breast. 4-5oz (this is a bit larger than the palm of your hand)
2 tablespoon of tandoori spice mix
1 tablespoon of cooking oil like olive or avocado oil
2-3 cups of chopped vegetables like cauliflower, green beans, broccoli, and peas
2 teaspoons of desi ghee
½ cup cooked brown rice
Lemon juice

Get some wax paper or saran wrap and rip off two pieces.

Put the chicken on a cutting board with one piece of wax paper or saran wrap under it and one piece over the top of it.

Here's the fun part!

Get a hammer, wrench, meat mallet, or rolling pin and start pounding the chicken evenly until it's roughly 1-2cm thick. Pounding the chicken tenderizes it, and it makes it cook faster, so you don't have to worry about undercooked chicken.

Rub the chicken.

Rub both sides of the chicken with the tandoori spice mix and hit it with a pinch of sea salt.

Heat a frying pan to medium-high.

Add a tablespoon of cooking oil. Cook the chicken for 3-4mins on each side.

Cut your vegetables into chunks.

Fresh is always best. If you're short on time, you can get pre-cut fresh vegetables or frozen vegetables from the grocery store.

Heat another frying pan to medium-high heat.

Add a ½ cup of water and toss your vegetables into the pan. Cover with a lid and let them steam for 7 mins. Take the lid off and mix in 2 teaspoons of desi ghee. For extra flavour, use chicken stock instead of water to steam your veg.

Toss ½ cup of cooked brown rice in with your vegetables.

You can use fresh cooked brown rice, leftover rice from the fridge, or buy pre-cooked rice from the store.

Give yourself a vitamin C boost.

Squeeze a wedge of lemon over your veg and rice. You can also serve the chicken with a side of yogurt for dipping.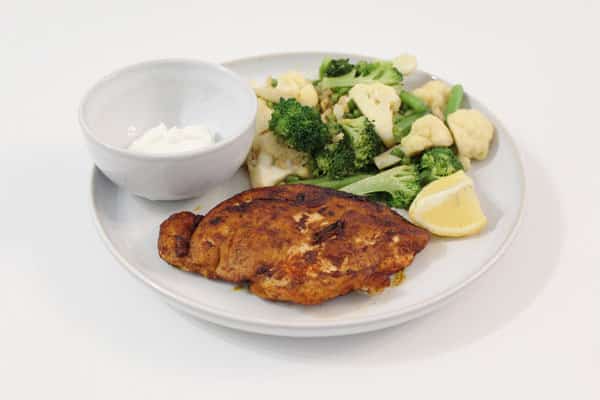 If you're of South Asian heritage, like I am, we're at a higher risk of developing diabetes. Making small changes to our eating habits starting now can make a real difference down the road. 49 is the median age that South Asians are known to develop diabetes. Dude, that ain't even old, and it's earlier than other ethnic communities in Canada. The good news is that we can turn the tide and prevent ourselves from being a part of these statistics. Just like G Eazy says: "This is all facts." ("All Facts" by G Eazy ft. Ty Dolla $ign).
According to the Canadian Journal of Diabetes, 51% of South Asians screened had prediabetes. If you want to know where you stand, this quick questionnaire from Diabetes Canada will show you your risk level.
I know it can be difficult to modify a diet that we're so used to into a healthy South Asian/Punjabi diet, but it's not impossible! I'm not saying we have to give up on gulab jamun for good – I'm just saying it's time we switch things up and try only indulging in those premium sweets on special occasions.
What do you like to cook when you've got some time? Have you found easy ways to make your favourite foods a little bit healthier? Share your tricks in the comments below!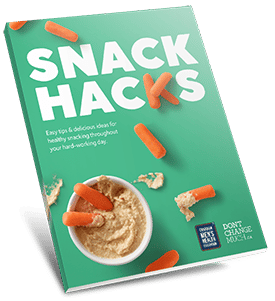 Free e-book
Are you trying to snack healthier? If so, we've got your back!
Grab this free e-book "Snack Hacks", for easy tips and delicious ideas for healthy snacking throughout your hard-working day.
Check the checkbox to receive more great tips each month.