How about this heat? When it's too darn hot to cook in the house, the BBQ is the perfect alternative to using your stove or oven. Celebrate summer with these mouth-watering recipes that won't make your home any hotter than it needs to be. Three cheers to cooking outdoors!
BBQ Beer Can Chicken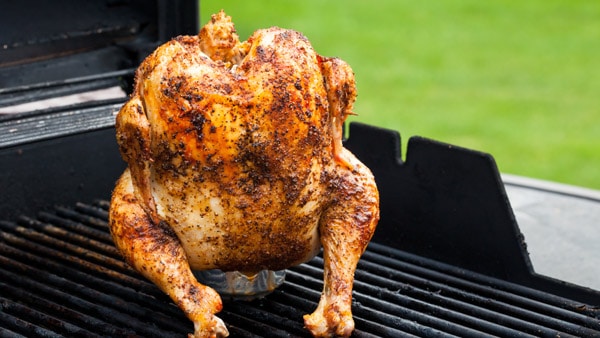 This is a classic summer BBQ recipe. If you haven't tried BBQ beer can chicken before, you're in for a juicy treat. When cooked properly, the meat falls right off of the bones while the skin stays crispy on the outside. Trust us when we say it's as delicious as it sounds.
Prep and cooking time: 1 hour and 30 minutes.
Ingredients
1 (4-pound or 1.8 kilograms) whole chicken
2 tablespoons olive oil
2 tablespoons salt
1 teaspoon black pepper
3 tablespoons of dry spice rub
1 onion quartered
1 can of beer
Step-by-step instructions
Remove the giblets and neck from the inside cavity of the bird. Give your bird a good rinse and dry off with a paper towel.
Massage olive oil into your chicken, then cover it in the dry spice rub.
Crack open your can of beer and take a couple of big gulps so that you've only got ½ a can remaining.
Place the onion cut into quarters into the cavity of the chicken.
Place the cavity of the chicken (with the onions in it) over the beer can. Balance the bird on the centre of your grill and close the lid.
Cook for about an hour and 15 minutes on indirect medium-high heat about 375 degrees F (190 degrees C) or until it reaches an internal temperature of 165 degrees F.
Cook some roasted veggies in some tinfoil alongside the chicken, and you have a healthy and delicious meal without making your home feel like a blazing inferno.
Maple-Glazed Shrimp with Coconut, Lime & Tomatoes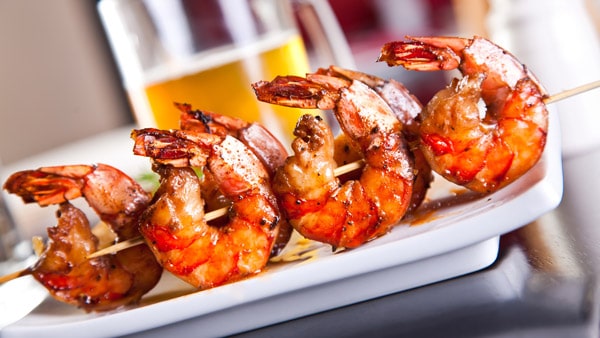 If you're looking for juicy shrimp fresh off the BBQ, this one's for you.
This maple-sweetened recipe is an easy one I like to make from Canadian Men's Health Foundation Champion Ned Bell, chef advocate, keynote speaker, educator, and now owner and chef at Naramata Inn.
Ingredients
2 cups grape-sized tomatoes
1 cup coconut milk
¼ cup maple syrup
¼ cup apple juice
2 limes
1 tablespoon fresh ginger, chopped (here's how to chop like a champ)
1 clove garlic, chopped
1 shallot, finely diced (ditto dicing)
4 tbsp canola oil (olive oil works too)
1 tbsp chilli paste (your favourite hot sauce works too)
1 pound peeled and deveined jumbo shrimp
Step-by-step instructions
Heat 2 tablespoons of the oil in a cast-iron pan over medium BBQ heat, then sauté the garlic, shallots, and ginger for 30 seconds. (A pot on the stove works well too.)
Add the tomatoes, stir, and sauté for 3 minutes.
Add the apple juice, coconut milk, and maple syrup.
Add the juice from both limes, then stir and cook for 15 minutes.
In a large bowl, coat the defrosted jumbo shrimp with two tablespoons of cooking oil and a pinch of salt and pepper.
Grill the shrimp over medium heat for six minutes, turning them halfway through, and set them aside in a large bowl once they are done cooking.
Stir in the chilli paste into the simmering pan or pot, and adjust the seasoning with salt if needed.
Pour the sauce over shrimp and stir so that all shrimp are coated.
Serve the shrimp on top of some steamed rice and grilled vegetables. Garnish with a few sprigs of cilantro. If you squint, those fresh-tasting leaves can look like they came from a miniature maple tree.
Grilled BBQ Chicken Pizza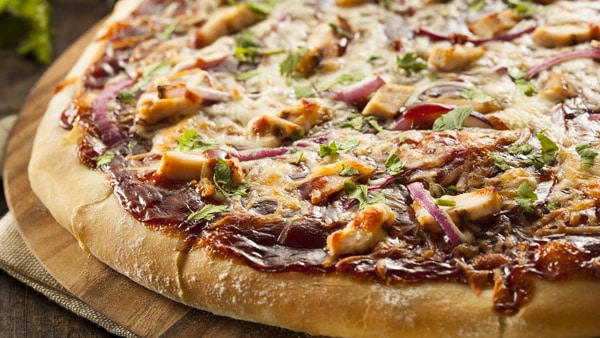 Did you know you can cook pizza on the barbecue? This recipe combines pizza with delicious BBQ chicken. This one is a lifesaver for all of you pizza lovers who don't have AC on a hot summer day. Turning on the oven is simply not an option for some of us when it feels like the Sahara in your kitchen.
Another fun fact, pizza accounts for 14% of all dinners in Canada. True story! Canadians love pizza and BBQs. So really, this is an ideal combo.
Ingredients
1 frozen whole-wheat pizza crust
1 small bottle of barbecue sauce
1 boneless chicken breast
1 small red onion
1 bell pepper
1 cup of grated low-fat mozzarella cheese
A pinch of black pepper and dried oregano
2 tablespoons of olive oil
Pretty much any pizza topping, from olives and mushrooms to pineapple rings and tomato slices, works well on the barbecue.
Step-by-step instructions
Preheat your gas grill. Using tongs and an olive oil-soaked cloth, wipe the grill to prevent food from sticking.
Grill the chicken breast while brushing it with barbecue sauce.
While the chicken is cooking, chop up slices of red onion and bell pepper.
Remove the cooked chicken from the grill and dice it up.
Evenly spread barbecue sauce over the pizza crust and cover it with onion, peppers, and chicken. Sprinkle the mozzarella on top of everything. Shake some black pepper and dried oregano.
Turn off half of your barbecue's burners. (Turn off two on a three-burner grill.) Wipe the grill with oil (again) where the burners are extinguished, and lay the pie down on that spot. Close the 'cue, and check on your creation every couple of minutes. When the crust starts to turn brown, and the cheese is bubbling, remove the pizza and let it cool before digging in.
Now that we've given you some super-freaking-delicious BBQ options, say it with us: "Gentlemen, start your barbies!"
What is your favourite thing to grill on the BBQ? Share in the comments below.
Know Your Health Risk
In 10 minutes, learn your risk level for the 8 most common health conditions affecting Canadian men. Men's Health Check is free, anonymous and backed by medical experts.