Tommy Europe is an award-winning fitness coach, a two-time CFL All-Star, and Grey Cup Champion. He starred as the tv host for 6 seasons on The Last 10 Pounds Bootcamp and Bulging Brides. Tommy is also a professional stunt actor, keynote speaker, best-selling author, and KidSport BC ambassador.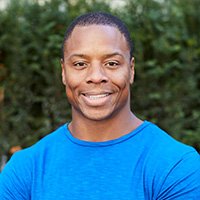 Easy to follow 30-minute workout videos with fitness coach Tommy Europe. Workout from home with no gym equipment needed.
Think you don't need to stretch before working out? Think again. Avoid injury with this dynamic stretching routine from Tommy Europe.