Tommy Europe is an award-winning fitness coach, a two-time CFL All-Star, and Grey Cup Champion. He starred as the tv host for 6 seasons on The Last 10 Pounds Bootcamp and Bulging Brides. Tommy is also a professional stunt actor, keynote speaker, best-selling author, and KidSport BC ambassador.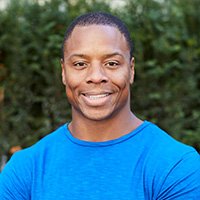 Dynamic stretching increases power, flexibility and range of motion. Check out this full-body dynamic stretching routine from Tommy Europe.
Easy to follow 30-minute workout videos with fitness coach Tommy Europe. Workout from home with no gym equipment needed.