It's the time of year when that New Year's resolution isn't looking as appealing as settling into your favourite spot on the couch, kicking back, and letting the weekends fly by in a blur of EPL, NFL, NHL and NBA. We're calling it the minimal motivation month(s).
Motivation is what drives us to get off our butt and conquer the to-do list. It's what fuels our competitive fire, pushes us and keeps us connected. But, when you feel stuck in a rut or just plain tired, it can be an uphill battle to harness it.
Here's what you can do to kick your motivation for life back into action or ensure you have a team behind you to keep you on course when the couch is calling:
Start small
Taking on too much right off the bat can be a buzzkill and can make a project or task feel daunting, turning that lack of motivation into a mainstay. Instead of setting a high bar right away, start small with one little goal at a time:
Eat Healthier
Eating more greens can be a big resolution to conquer, especially if you aren't a salad lover.
Instead of looking at it as an overarching goal, make your goal actionable, like having salad as your main meal for dinner once a week. Make those salads even better with these man salad ideas.
Drink Less
In combination with Dry January, New Year's resolutions mean that drinking less can be top of the 2022 changes to make list.
Instead of going cold-turkey on booze, try these near-beers, replace a drink or two a week and work up from there.
Get Active
Rather than saying you want to bike 50kms a day (especially if cycling isn't your go-to yet), start with committing to move for three minutes at a time and slowly add more activity throughout the week.
You don't need to feel motivated to be motivated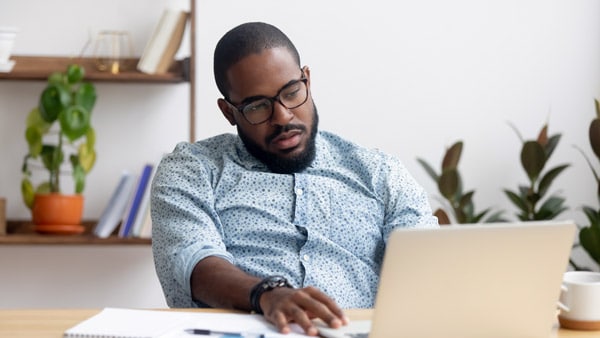 A common misconception is that you need to feel motivated before you can take action. You know the garage or the basement has a build-up of useless stuff that no one in the house has touched or even thought about in the last year. It's time to purge, and you always feel better after getting rid of the junk that's collecting dust.
But, if you wait to feel motivated by life before tackling a project, you may be waiting for weeks or months. Instead, step into action, start with a 5-minute commitment and see how far you get.
Motivation can often show up after you take action. You don't really feel like working out, but once you're 5-10 minutes into exercising, you realize it feels good, and you want to keep going.
The more often you can take action towards a task without motivation, the quicker the motivation will come, and soon the motivation will precede the action. This is because of the positive reinforcement brought on by how positive you feel after working out or after purging 10% of the junk in the basement. The next time you take on one of these tasks, it will be that much easier to get started.
Think about the pros, not the cons
The negatives often stick out about the to-do list when we aren't motivated—for example, grocery shopping. We have to do it, but when we're in a motivation slump, the drive feels long, the parking spot hunt feels maddening, and the snack you want definitely won't be in stock once you get there.
Instead, flip your thinking to focus on the positives: you get to spend time with your family if they take the trip with you, you can grab a coffee post-shop, and maybe you can try out that new hot sauce the guys were going on about.
Here are a few examples of some positives to spur your motivation for a healthy life:
Sleep Better
If you like testing out new tech, support your "sleep better" goals by downloading sleep apps. It'll keep you entertained and curious as the data comes in or give you the chance to test out how their activities impact your sleep.
Drink Less
Put extra cash in your wallet, help you think more clearly, and help to improve your sex life.
Quit Smoking
Help boost your libido, save you money and improve your overall health.
Tailor goals to you
When you set yourself goals for healthier living, they can often be unrelated to what you genuinely enjoy. Sure, in theory, it would be great to run every day, but if you aren't interested in running, it can be tough to lace up and get out the door.
Focus on things you're interested in doing and set you-centred steps to make your goals happen.
Share your goals and get support
The reality is that none of us likes to look bad in front of our buddies. Use that to fuel your motivation. Make your goal, project, or commitment public, to push yourself to stay on top of things. You'll be more motivated to complete them when there is a sense of accountability.
That said, sometimes, we need an extra push to keep our goals in check. That's where the all-star team comes in: friends, family and even community. Get support from those close to you to keep on top of goals, or surround yourself with people that are doing the things you'd like to do so they can provide some inspiration.
Join a team sport where your attendance is vital to each week's game or practice.
From experience, there's something overwhelmingly motivating about a text from your team manager with just a "you playing tonight?", even on your most unmotivated days.
Make a healthy eating goal with your partner to cook one new healthy meal a week.
On the one hand, you'll keep each other accountable about what's going into the meal. On the other hand, it's an excellent opportunity to spend some time together.
Give your energy level a boost by getting outside every day.
A few minutes spent in nature can have health benefits such as lowering your heart rate and improving the quality of your sleep.
Even with the above, motivation comes and goes—and that's normal. Give yourself a break rather than getting frustrated when you hit a plateau. Motivation for life will come back in time by recommitting to the tips and tricks that work for you.
Check out other Don't Change Much blogs for more helpful, healthy and small changes you can make to stay motivated.
Are there other things you tell yourself or do to bring back your motivation? Let us know in the comments.
Not Feeling Like Yourself?
Tackle chronic stress, anxiety and depression with MindFit Toolkit. Access free mental health tools designed for men.